Energy Studies
Approaches Used for Energy Studies
by Eldon Doody, P.E.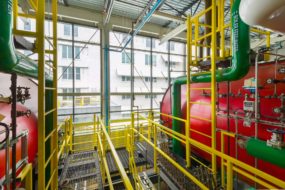 Our team utilizes a comprehensive approach to energy evaluations to ensure the most suitable and cost-effective outcomes for our clients. Our energy studies typically involve the following steps:
Site Survey and Information Gathering:
The first step in each energy study is a visit to the client's facility by key staff members. One purpose of the site visit is to gather and review documentation such as drawings and historical operating data. The site visit allows our engineers to get a firsthand look at the facilities and equipment, to assess existing conditions and to determine opportunities for improvement. It also allows us to review potential locations for future equipment.
Perhaps most importantly, the site visit provides an opportunity for our staff to meet with facility operating and maintenance personnel to obtain their valuable input and ideas as to the facility's issues, limitations and potential.
Energy Modeling:
A key component of each energy study is the development of an energy model that represents all the energy inputs and outputs for both the existing facility and for proposed changes. We strive to have several years, preferably five years, of data to input into the models. This includes fuel consumption, electrical consumption, thermal and electrical energy in-house generation, etc. The spreadsheet format allows our clients and us to experiment with various "what-if" scenarios. Models are developed using Microsoft Excel, have the advantage of being widely used by technical personnel, and are easily modified by us or for use by others. The model includes all the major elements of a steam plant, including: Boilers, Steam Headers, Condensate Headers, Power Turbine-Generators, Pressure Reducing Valves, Feedwater Pump Turbines, Boiler Fan Turbines, Deaerators, Feed Water Heaters, De-superheaters, Air Heaters, Blow Down Flash Tanks, Blow Down Condensate Heat Recovery, and Cooling Towers.
Continue reading this in the Barn Raiser.
Nov 17th, 20160 comments
Recent Posts

"In the tradition of a community coming together to raise a barn, Mid-South Engineering is committed to working with our friends and neighbors as partners, knowing we can accomplish more by working together, with the common goals of lifting each other's burdens and side-by-side framing our future for the better."

If you would like to receive the Barn Raiser Newsletter, please complete our

subscription form

.

Newsletters